New World Wuhan Hotel offers a range of elegant event and wedding venues in a variety of configurations, with a choice of décor from classic to contemporary. Every meeting and function space has state-of-the-art audio-visual equipment and our experienced team takes pride in planning every detail to ensure that everything runs smoothly.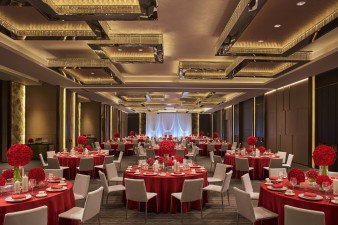 Grand Ballroom
Our 600-square-metre Grand Ballroom on Level 2 accommodates up to 600 guests in exquisite style. Available with a spacious 190-square-metre foyer, this contemporary ballroom can also be configured for smaller events. It has a 4.5-metre-high ceiling, a spacious reception area and is connected to the VIP room. It is an excellent choice for a broad range of large events and special occasions.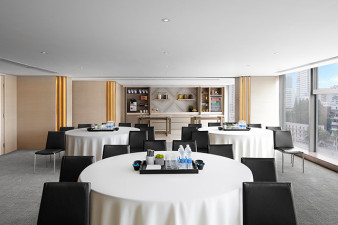 Conference Centre
The six multifunction rooms of the Conference Centre can accommodate up to 300 guests. The rooms are on Levels 5 and 6 and feature floor-to-ceiling windows overlooking Wuhan's bustling streets. There is a dedicated foyer that can be used as a reception area or for coffee breaks, and a 100-square-metre time-out zone with a coffee station. Conference Room 6 is connected to the swimming pool, so coffee breaks can be held in the lush surrounds of the Poolside Garden.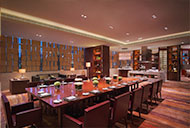 Yangtze Lounge
The 145-square-metre Yangtze Lounge can be transformed to suit a variety of events. For meetings and conferences, there is the latest audio-visual equipment and that all-important technical support. Featuring a 14-seat teak table, a miniature show kitchen and bar, leather lounge seating and a collection of exquisite art pottery, the lounge is ideal for cocktail parties, dinners and intimate get-togethers.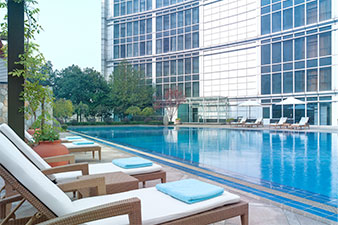 Poolside Garden
The 245-square-metre Poolside Garden on Level 6 is an oasis of plants, trees and fountains that caters for up to 170 guests for buffets and 200 guests for cocktail parties.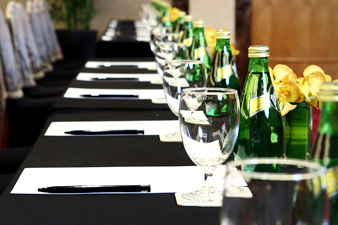 Audio-Visual Equipment
Tele-conference facilities
Video conference facilities
Build-in projector and screen
Flat-screen TV
DVD Player
Public Address (PA) system
Programmable light control
Karaoke system
Podium
Stage
Wireless and wired Internet connection
Wireless and wired microphones